DAY 1:

MARRAKECH TO AGERSIOUAL
We organize Marrakech Atlas trekking to explore Berber villages with depart from your hotel. You meet the team ; guide, cook and muleteers then set off on first day which will be an acclimatisation trek in the Ouirgane National Park. The terrain here is gentler with copper green soil and juniper trees. Overnight in Gite in a Berber Village of Tizian. Aprox. 4-5 hrs walking time.
DAY 2:

ADVENTURE TREKKING TRIP
After breakfast you'll head up and out of the Valley and traverse over to the stunning Azzaden Valley. The views open up with a rushing mountain stream surrounded by lush walnut groves leading up towards Toubkal and her sister peaks at the head of the Valley. Overnight in a village Gite or camping. Aprox. 7 hours walking.
DAY 3:

TREKKING DAY IN ATLAS MOUNTAINS
Today involves a fairly stiff climb out of the Azzadene Valley to the Toubkal Refuge past the the Ighouliden waterfalls and over the Aguelzim Mountain pass at 3,560m. Lunch will be taken with spectacular views over the Atlas Mountain Range. Overnight in the Toubkal Refuge (Niltner Hut) at 3,200m where you'll likely be sharing a bunk room with other trekkers tackling Toubkal early the next morning. Aprox. 7 hours walking.
DAY 4: ATLAS - MARRAKECH
Up early for the climb up Toubkal (4,167m) from where, clouds allowing, you'll have wonderful views over the Atlas Range and the Sahara Desert then a long way back down past the refuge and the well-worn path back to Imlil. This is a fairly long day with 8-9 hours of trekking, involving 900m up then almost 2,500m back down to Imlil Prior to transfer back to Marrakech.

4 DAYS TRAVEL THROUGH BERBER VILLAGES

FROM MARRAKECH, EXPLORE ATLAS MOUNTAINS
This is a breathtaking four days hiking trip in the Atlas Mountains of Morocco. We walk through different landscapes, from lush valleys to barren rock.
Enjoy mint tea and a delicious meal with one of the local families in your Marrakech adventure trip with hotel pick up and private transfer.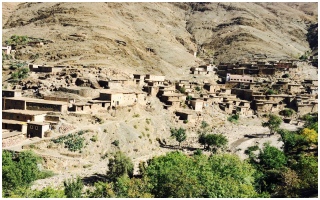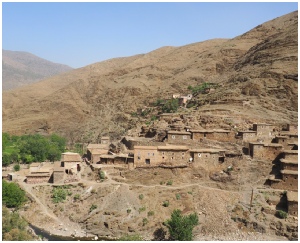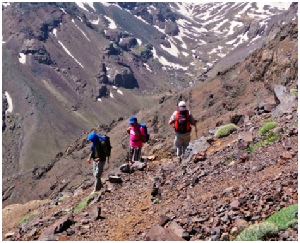 Reservation & contact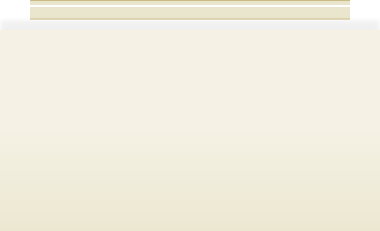 Address in Morocco:
Village Imlil, Asni 42152 BP 94, Marrakech
Phone:
+212 661952619 ,+212 634468211
Email:




ACCOMMODATION AND

ATLAS TREKS IN IMLIL